In 1935 ,Miss Tad Prateepprasen was sponsored by Mr. Walter Zimmerman, General Secretary of YMCA 's Bangkok ,since he archive a budget from YMCA 's USA, to attend YWCA 's regional conference which was held at Colombo Ceylon with all representative of YWCA from Europe , United State and East asian for two weeks.
Without hesitation, she invite a group of people (approximately 15 people, e,g Preeda Vichai , Tavee Vichaidit , Anong Hitasak , Pudson Mojdara , Ker Salikupt and some American missionary )for preparation of establishing YWCA of Bangkok ,after back to Thailand
However, World War II (1941) caused her a temporary suspension but continued after peacefulness. With kindness advice from Miss Gertude Owen , General Secretary of YWCA of Malaysia, with experienced guide she followed ,Our first hostel was established
YWCA Bangkok hostel located at 275 Silom road Saladeang alley. Grateful to Ladies Nuam Vehasiamnusilpsit who lease out her house with low cost. Then Miss Tad and her team contribute to support renovation of this house to hostel with amount 8,000 baht. The first guess is 10 of Chulalongkorn University ' s student
Later, In order to be official and legally association ,Head quarter of YWCA ( Switzerland ) let again Miss Gertrude Owen to advice us draft regulation and all set up procedure which was legally certified in 20 June 1947.
Miss Fern Ladgerwood was introduced as our first advisor general secretary which she did her job superbly, blended to Thai language and culture. In 1948 , our president board of director earn a scholarship to University of Columbia New York and represent us in world conference of YWCA.
We bought development land with 1 building ( Holy Ruth building) and 1 pavilion at 13 South Sathon Road from Mrs. Bertha Blount Mcfarland by use 3,000 USD donation from YWCA of United State of America which campaign by Mrs. Paul Eakin's. We primary switch from Silom (1st place) to use for our office ,accommodate our general secretary, dormitory service and all activities
At first ,many of our activities focusing on embroider, cook (Instruct by Mrs.Samrit Suwanbol and Mrs.Paeprawart Vidjukumari) , recreation ( square dance ; Instruct by Mrs. Forkner , our general secreatary ) and english class ( Instruct by our foreigner volunteer ) Lastly, Mrs.Boonchuan Hongkrai ( General Secretary ) considered to add hostel service with inexpensive charge fee and safe for women tourist. This building located behind Holy Ruth Building.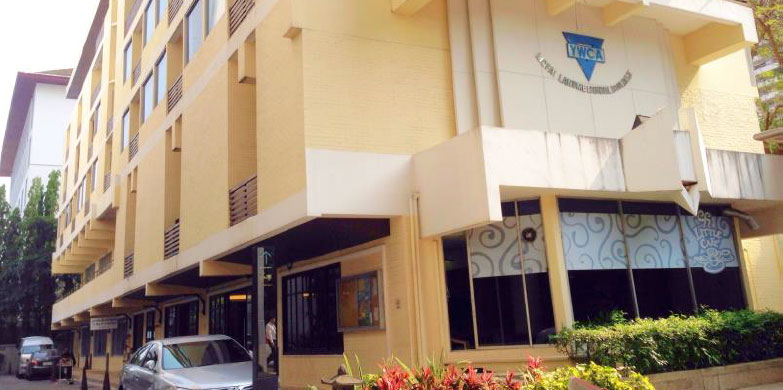 YWCA Bangkok